Welcome to the Kami wa Game ni Ueteiru Wiki
Synopsis
The supreme Gods who had too much free time created the ultimate brain games "Play of the Gods." Former Goddess Leche awoke from a long slumber and declared to the world, "Bring forth the person who is the best in games in this era!" Fay is nominated to represent humanity as the "best rookie in recent years."
The "Game of the Gods" that is about to begin between the two may be a little too difficult, as there has yet to be a victor throughout human history, because Gods are capricious, very unreasonable, and sometimes completely incomprehensible. However, given the nature of the games, it would be a waste not to have a good time and play with all of one's heart! The ultimate brain battles of a genius gamer boy, a former Goddess, and friends begin!
Characters
Partners Wikis
Guidance for New Users!
We don't have a lot of content on this wiki. By With your help, we can make it even better.
Anonymous editing has been disabled for this wiki. To contribute, you must login or sign up for a free account. After that, you can get started and help out by editing typos, work on article stubs or leave feedback in comments and talk pages. You may also consider creating wanted pages.

If you need help, you can refer to the Help pages, FANDOM University or ask an admin.
Are you an experienced editor? Check out the Community Page or Special pages to see which areas of the wiki are in need of help.
---
Affiliated Discord
Latest Release
Latest Volume!
Japanese!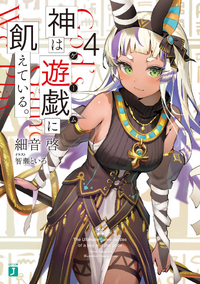 January 25, 2022
Latest Volume!
Japanese!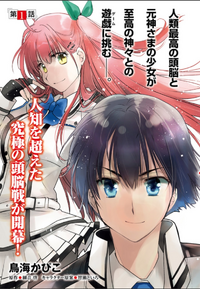 September 2020
Twitter
External Links